5 Best Micro Trading Softwares
Do you want to build wealth starting with a small capital size? If your answer is yes, then micro trading is for you. Micro trading enables investors to participate in financial markets without having to risk a lot of money. You too can tap into the wonderful opportunities micro trading software offer to slowly build your wealth. Here are 5 micro trading software that you can find useful.
MetaTrader 5 is one of the leading forex and CFD trading platforms on the market. It is compatible with Windows PC devices and also available on smartphones. MetaTrader 5 offers a wide variety of functions for the modern forex trader. It has rich trading functionality, technical and fundamental analyses, copy trading and automated trading functions which you can access for free once you download the software.
To use MetaTrader 5, you first need to open an account with a forex broker that has the MT5 integrated. Luckily, many of the leading brokers support MT5.
The handy features of MetaTrader 5 are:
Full set of trading orders for flexible Forex, Stocks and other securities trading
Two position accounting systems: netting and hedging
Unlimited amount of charts with 21 timeframes and real-time quotes;
Technical analysis with over 80 built-in technical indicators and analytical tools
Fundamental analysis based on financial news and an economic calendar
The largest store of ready-to-use trading applications at the MetaTrader Market
Powerful algorithmic trading with the built-in MQL5 environment
Trading Signals allowing you to automatically copy deals of experienced traders
A system of alerts to keep track of all important market events
eToro is a  leading forex and CFD broker. In addition to forex and CFD, the software also allows the trading of many other financial instruments such as stocks and cryptocurrency. It offers innovative features through its state-of-the-art technologies. One of those is the patented CopyTrader™ which supports social trading that lets you copy others. With eToro, the account opening is fast and seamless. eToro's platform is well-developed and has many very useful features. It is compatible with Windows PC devices and also has a mobile application for smartphones. eToro runs a Popular Investor Program which recognizes talented, savvy, and responsible traders and rewards them for their knowledge.
Why would you choose TD Ameritrade? You should because it has an immense catalog of products. That is, with TD Ameritrade, you will have a wide selection of investment choices from which to choose.
Another notable advantage of using TD Ameritrade is its affordability. To use its software, there are no trade and account minimums. Also, it does not charge any fee to use its platform. This transparency in fees significantly contributes to its popularity. And there are also interactive courses and webcasts for its users.
You choose the way you want to invest. Ally Invest only shows you how. Your investing experience does not matter. Ally Invest has a wide range of investment products all provided at low costs. Those products are offered in two categories: Self-Directed Trading and Managed Portfolio.
Ally Invest has no account opening minimum. It charges no hidden fees. This means that without having to risk a lot of money, you can benefit from the wide variety of investment products it offers. On its trading software, there are tools for in-depth research and market analysis which supports all types of strategies for investing.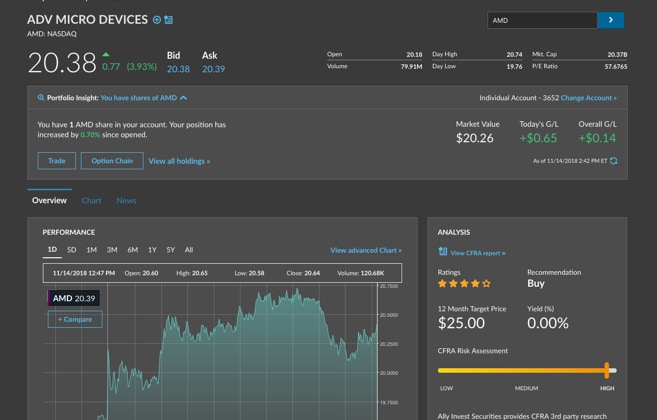 Competitive trading fees. Powerful trading tools. International opportunities. Outstanding support. These are the foremost benefits you will enjoy when you use Zacks Trade. Expensive costs can make trading unprofitable. Zacks Trade understands this abysmal reality and leverages on it. Thus, with its software, you are given access to trade and invest in financial markets at costs that are among the lowest in the industry. For example, American stocks trading and options start as low as $3. Margin rates are low too, depending on the account balance.
Regarding its platform, your needs, irrespective of how queer they are, will be covered. Do you want robust tools for charting and trading? Or are you looking for a platform that will just satisfy your simple trading needs? For either of the two, you will find Zacks Trade extremely useful for your needs. It is a global economy. Zacks Trade knows and allows you to benefit from it, providing clients in over 200 countries the opportunity to trade on over 90 exchanges. Finally, the support is really outstanding, with live chat and FAQ options provided to allow you to make the most of your trading experience.
Check out our other articles: